The self-acclaimed pastor of the Cherubim and Seraphim Church, Solution Chapel, Ikoyi-Ile, Osun State, Segun Philips, said he was paid N210,000 to use the final year student of the Lagos State University, Favour Daley-Oladele for money rituals.
His action was after Favour's boyfriend, Owolabi Adeeko, had smashed her head with a pestle.
The pastor confessed that he was the one, who slaughtered and removed the breasts, heart and other vital organs from Favour's body.
Philips disclosed this in an exclusive interview with PUNCH Metro at the police headquarters, Eleweran, Abeokuta, on Monday.
He stated that the organs were used to prepare a concoction for Owolabi and his mother.
He, however, said the concoction was prepared with human parts without the knowledge of Owolabi's mother.
When asked if he slaughtered the victim, Philips said, "It is true; I slaughtered Favour with a knife. I was the one, who removed her heart, breasts and other vital organs, so that we could use them for rituals.
"But, I was not the one, who smashed her head with a pestle. Owolabi did that."
He, however, exonerated Owolabi's mother, saying they deceived her that they would do something different.
Philips stated, "She was not aware that we used human parts for the concoction I gave her.
"I prepared the concoction for her and her son because I was broke and I needed money. I demanded N250,000, but I was paid N210,000. "I was called by God, but I think I have lost the calling because of what I did." The 23-year-old Owolabi reportedly connived with the 42-year-old self-acclaimed pastor to kill Favour.Owolabi, who was arrested by men of the Ogun State Police Command in Ikoyi-Ile, Osun State, was said to have confessed to the police that he sought Philips' help for money rituals.The Police Public Relations Officer in Ogun State, Abimbola Oyeyemi, had said, "The deceased was reported to have left home to an unknown destination since December 8, 2019, and had not been seen since then, hence, she was reported missing by her parents at the Mowe Police Station."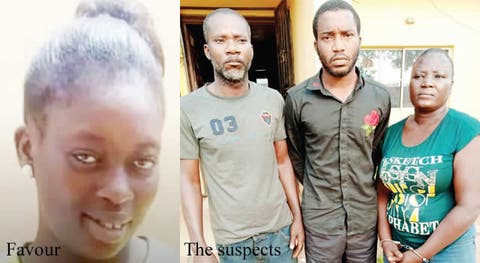 Source: https
://www.punchng.com/icymi-i-was-paid-n210000-to-use-lasu-undergraduate-for-money-rituals-pastor